Celebrating a Significant Success
A Western Colorado University band director is celebrating success at the U.S. Open Brass Band Championships. Western's Director of Bands and Brass Brett Keating and the Fountain City Brass Band (FCBB) were named the grand champion on the annual contest held in Kansas City, Kansas, in November 2021. The competition draws the top names in brass players from around the world.
"To win such a competition with so many great bands are present is a huge honor," said Keating. "Fountain City Brass Band has some of the top brass players from around the world and it's a privilege to sit in a group and play among incredible musicians that I deeply admire."
A Unique and Exciting Forum
The goal of the U.S. Open Brass Band Championships is to encourage the further growth and development of the brass band movement in North America by providing a unique and exciting forum for the participating bands. It promotes the highest standards of performance and entertainment.
Keating plays the euphonium, a low brass instrument, and has been performing with brass bands for the better part of two decades. He first joined FCBB when he lived in Lawrence, Kansas, and traveled with the band on a tour through England. He's been with the group ever since.
The band, formed in 2002, is an all-volunteer 30-piece brass and percussion ensemble based in Kansas City, but draws its members from around the United States. It performs a wide variety of music including modern compositions written specifically for brass band, as well as arrangements of classical works, jazz, and Broadway hits.
A Leading Role for Brass Instruments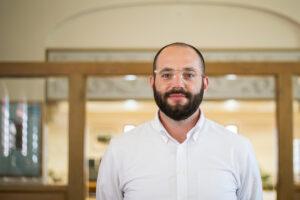 Keating—who began his music career as an undergraduate student—said he enjoys brass bands because the instruments are celebrated and are in the forefront of performances, playing melodies and very challenging music. In other instrument ensembles, brass often plays more of a supportive role.
"There's also a warm camaraderie in brass bands and due to the competitive nature, everyone is very invested," Keating said. "It's also all volunteer—there's no pay—because it's a competition that has its roots based in community music."
Passion for Music Performance
Keating noted that participants pay their way, traveling to competitions from all parts of the world on their own dime, just because they love to perform together. The band has won nine U.S. Open Brass Band Championships, eight North American Brass Band Championships, and one Scottish Open Brass Band Championship. Fountain City is the first American band to win a major competition on United Kingdom soil.
Learn more about Western's Music Department.
Author Credit: Chris Rourke
Photo Credit: Andy Schwartz of Veritography