For the second year, artists and art connoisseurs gathered at the Crested Butte Center for the Arts to celebrate Western Colorado University students in a special event. Organized by the Council of Creative Expression (CCE), a committee dedicated to aligning and promoting the arts at Western, the Western Art Showcase allowed students to display their work in an off-campus environment. Yet, this year's event carried special meaning as the world emerges from the COVID-19 pandemic.
Adapting to Circumstances
Like many individuals, organizations, and businesses, the art industry had to rapidly adapt during the global crisis. For Western students, that meant holding concerts via livestreams, performing plays in masks, and trucking their projects all around the country while they were still in progress.
"I even had students working on their art pieces in their bathrooms at home," said Anders Johnson, assistant professor of Art at Western. The showcase not only is a great resume-building opportunity for artists, but it is also a testament to the dedication Western students have to their crafts."
Art in All Forms
To kick off the event, the student-run group, Mountaineer Media, presented three short films. Carly Donk—a senior—directed, produced, and edited two films entitled "Clown's Hallows' Eve" and "monkey brain." Both films in the showcase were created and presented for her classes, she said. To Donk, the showcase is an opportunity for the art community at Western to share their collective passion.
"We're out here creating really awesome stuff and, in this valley especially, it's important for people with common creative interested to come together and support each other," said Donk.
One of the main events of the evening was the reveal of the 2022 Pathfinder Magazine. The magazine is the curation of student's artwork all in one book. Student's submit written work as well as visual art and the Pathfinder Committee selects pieces they see fit for the magazine. Most of the showcase can also be found in the Pathfinder Magazine.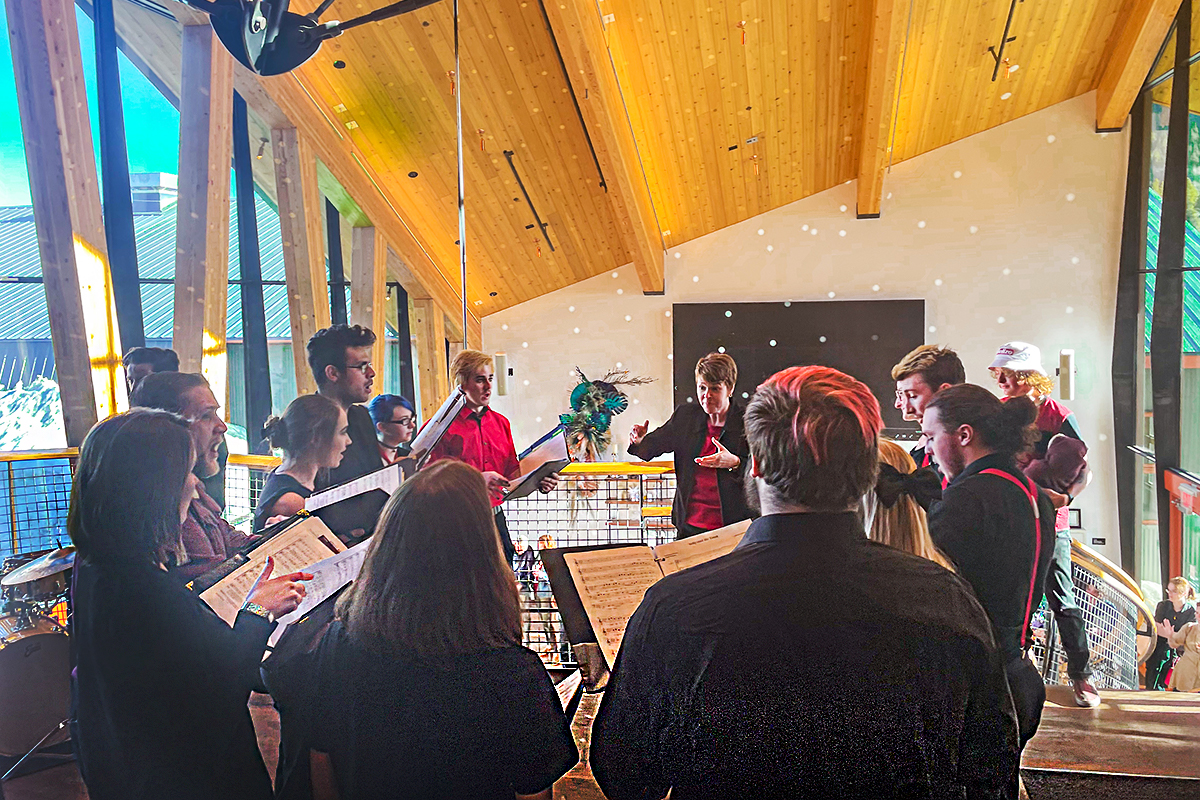 On a small stage in the middle of the Arts Center lobby, members of Western's writing club, Wordhorde, used their allotted time to present written pieces from the school year. These works included poetry, non-fiction short stories, fictional short stories, and even excerpts from full-length books.
Both the music department's Chamber Singers and Jazz Band played 30-minute sets. During the COVID-19 pandemic, seniors were unable to perform, and their recitals and concerts were given through a live stream. This year was a different story.
"Being a part of this [showcase] is really wonderful, especially that we can showcase the arts in such a time that we really need the arts," said senior Nathan Zimmerman, a chemistry major whose participation with the music department has spanned all four years."I can say for certain I wouldn't have come to Western if we didn't have a music program," he said.
Competition Behind the Exhibition 
The showcase was a participatory event. Still, the Art League made exhibition competitive. Of the 125 art pieces submitted to the showcase, just 25 were chosen to display. These pieces were selected by popular New York-based artist, Ben Cowen. Then Cowen selected a first, second, and third place winner as well as honorary mentions of the show.
Best in Show recipient Aaron Mason won the showcase for the second year in a row. As a senior Bachelor of Fine Arts (BFA) major, he said his second win gives him hope because the piece he entered is a continuation of the series he entered last year. His goal with this series was to explore photographing other subjects rather than working on self-portraits as he's done in the past.
"The Best in Show recipient Aaron Mason demonstrates an acute understanding of light and composition, a dynamic image of two muscular faceless men throwing punches or dancing," said Cowen in his juror's statement. "More than just a snapshot from a moody lit cage fight, these two characters illicit the inner battles we all face with our dark and light urges."
While he ponders his next steps, Mason said he's thankful to get the opportunity to show his work in the Gunnison Valley.
"A lot of the time, your art just lives on a computer or in a studio," said Mason. "It's really awesome to actually have people enjoy your work for once."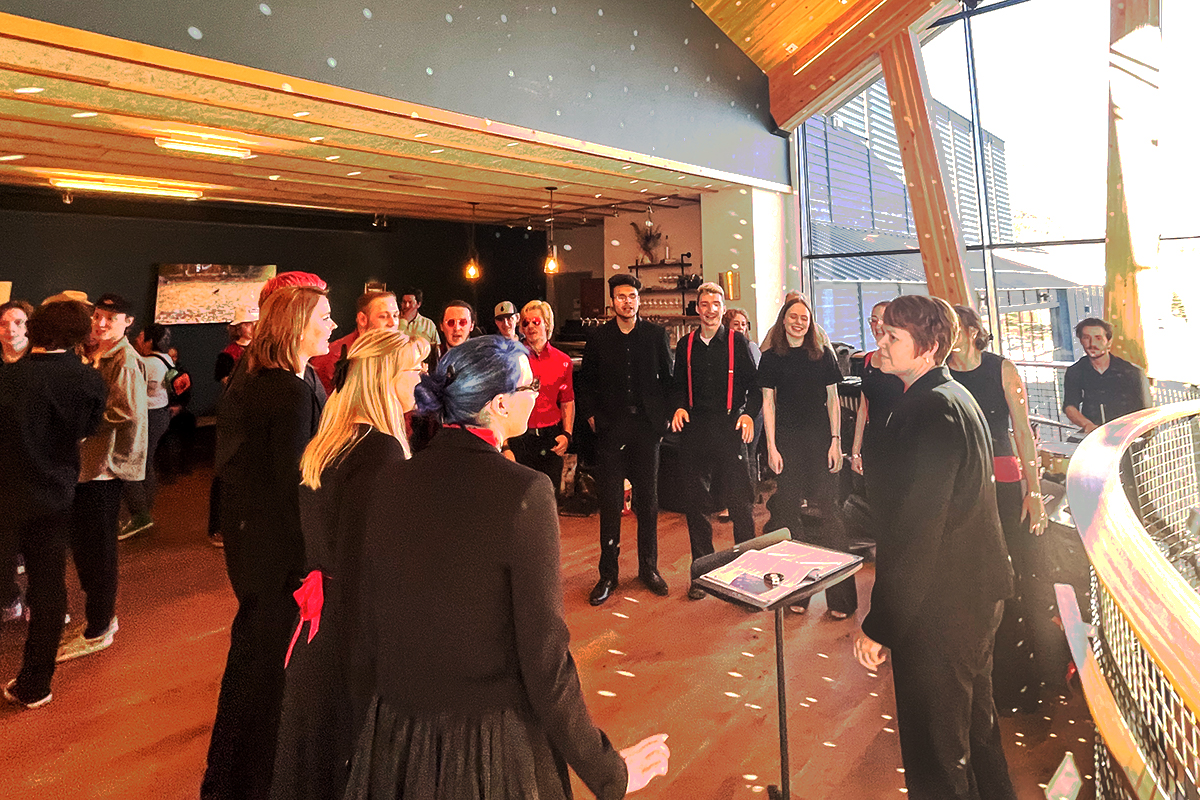 Combining Efforts 
This year, the Western Theatre Company participated in the showcase in a unique way. Instead of selecting an already existing work of theatre or play, three student writers selected art work from the show and wrote a short play based on those pieces.
Creative writing graduate student, Emily Nortnik, chose the piece "Eat or Starve" by senior BFA major Mallory Siebenneicher. The piece is a part of a larger collection called "Cannibalism Café" that makes commentary on eating disorders using the metaphor of cannibalism.
"This is kind of a humorous way of talking about eating disorders and making art about it," said Siebenneicher. The young artist created a fictional and immersive art world where cannibals eat people with no spine, who can't stand up for themselves, "just like eating disorders make you do," she said.
Nortnik said she was originally drawn to this piece because of the "gritty" feeling the work displays. She said her main goal was to keep the topic of eating disorders at the center of her own written piece.
Providing Support
"Being a young artist is a really, really scary space to occupy and that's why we cling on to any sort of support and hope that we get," said Nortnik of the showcase. "The beauty of Western is that we have an amazing faculty that believes in us and it just fills you up because you know you're not in it alone."
Learn more about Western's Art Department.
Author Credit: Kinlee Whitney
Photo Credit: Tomah Whitney