The Western Colorado University Graduate Program in Creative Writing (GPCW) is thrilled to announce that its student-produced anthology, "Monsters, Movies & Mayhem," is a finalist for the Colorado Book Award. This is the very first anthology produced by the students in the GPCW's Publishing M.A. program, which is directed by Kevin J. Anderson.
The Colorado Book Awards
The Colorado Book Awards are offered by Colorado Humanities, a nonprofit organization established in 1974 as a result of the National Foundation on the Arts and the Humanities Act. In its 30th year, the Colorado Book Awards celebrate the accomplishments of Colorado's outstanding authors, editors, illustrators and photographers. At least 10 categories are honored, including anthology or collection, biography, children's literature, creative nonfiction, fiction, history, nonfiction, pictorial, poetry and young adult literature.
Creating the Anthology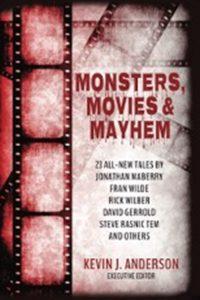 As a group project, the nine Western M.A. students created the concept for theanthology, solicited stories, read the slush pile, wrote rejections, worked with the individual authors, and designed and produced the volume. Thanks to funding from Draft2Digital, the authors were paid professional rates, and the anthology includes 23 original stories by best-selling or award-winning authors such as Jonathan Maberry, David Gerrold, Genre Fiction concentration director Fran Wilde, Genre Fiction instructor Rick Wilber and Genre Fiction MFA alum Charles Maclay.
"Monsters, Movies & Mayhem" was released in hardcover, trade paperback, e-book and audiobook, and received a featured, starred review in Publishers Weekly. The review stated, "The authors' palpable love of supernatural cinema is infectious; horror fans won't want to put this down."
Upcoming Projects and Announcements
Winners will be announced at a ceremony on June 26.
The second anthology from the current cohort of master's in Publishing students, "Unmasked," will be released during the GPCW's summer residency this July.
Learn more about Western's Graduate Program in Creative Writing.
Author Credit: Chris Rourke