Western is dedicated to its efforts focused on making campus operations more sustainable as we build future leaders and help to solve the world's pressing issues. Sustainable operations are seen all over campus, including in buildings, energy and climate use, transportation, cleaning, food and dining, purchasing, and waste diversion. Staff is consistently reexamining the efficiency of campus operations to reduce our carbon footprint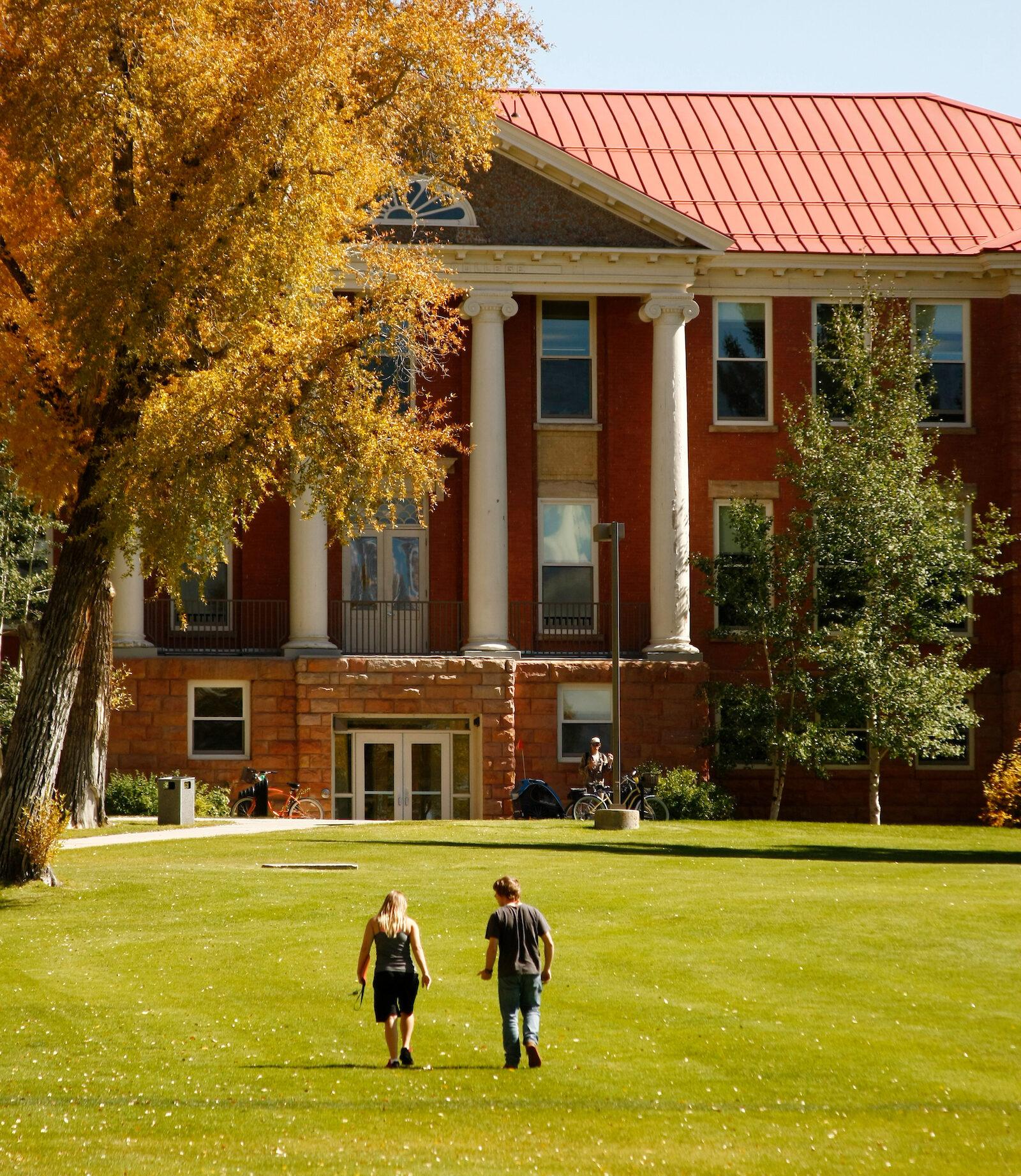 Waste Diversion
Western is dedicated to its efforts focused on zero-waste across campus. Our goals are to reduce waste and promote a culture change based on the principles of the Three R's: Reduce, Reuse, Recycle. The campus recycling program is an integral part of our commitment to reduce our carbon footprint by 50% by 2035. We promote waste diversion with recycling stations found all over campus, partnering with PCs For People to recycle e-waste, reusing household items through our FreeCycle program, partnering with TerraCycle for hard to recycle items, and hosting Zero Waste events.
Each spring, Western participates in the Campus Race to Zero Waste (formerly called RecycleMania), a friendly competition and benchmarking tool for university recycling programs to promote waste reduction activities to their campus communities. Over an 8-week period each spring, colleges across the US and Canada report the amount of recycling and trash collected each week and are in turn ranked in various categories based on who recycles the most on a per capita basis.
To learn more about our campus recycling program, please click here.
Transportation
More than half of students commute to campus in a sustainable way (bike, walk, public bus, and carpool). Western takes pride in being a bike friendly campus. Bike racks are located at all buildings, as well as longboard and skateboard racks at some buildings. Covered bike parking is available wherever possible, and a free bike library rental system is available at the library.
Western offers electric vehicle charging stations at two locations, outside of Taylor Hall and the Paul M. Rady building. Western also partners with the local RTA bus system. There is a bus stop located on campus at Colorado St. and Ohio Ave. in which students can catch a ride around Gunnison or head up to Crested Butte. The bus offers multiple stops each day and schedules depend on the season. You can even bring your skis, snowboard or bike with you on the bus!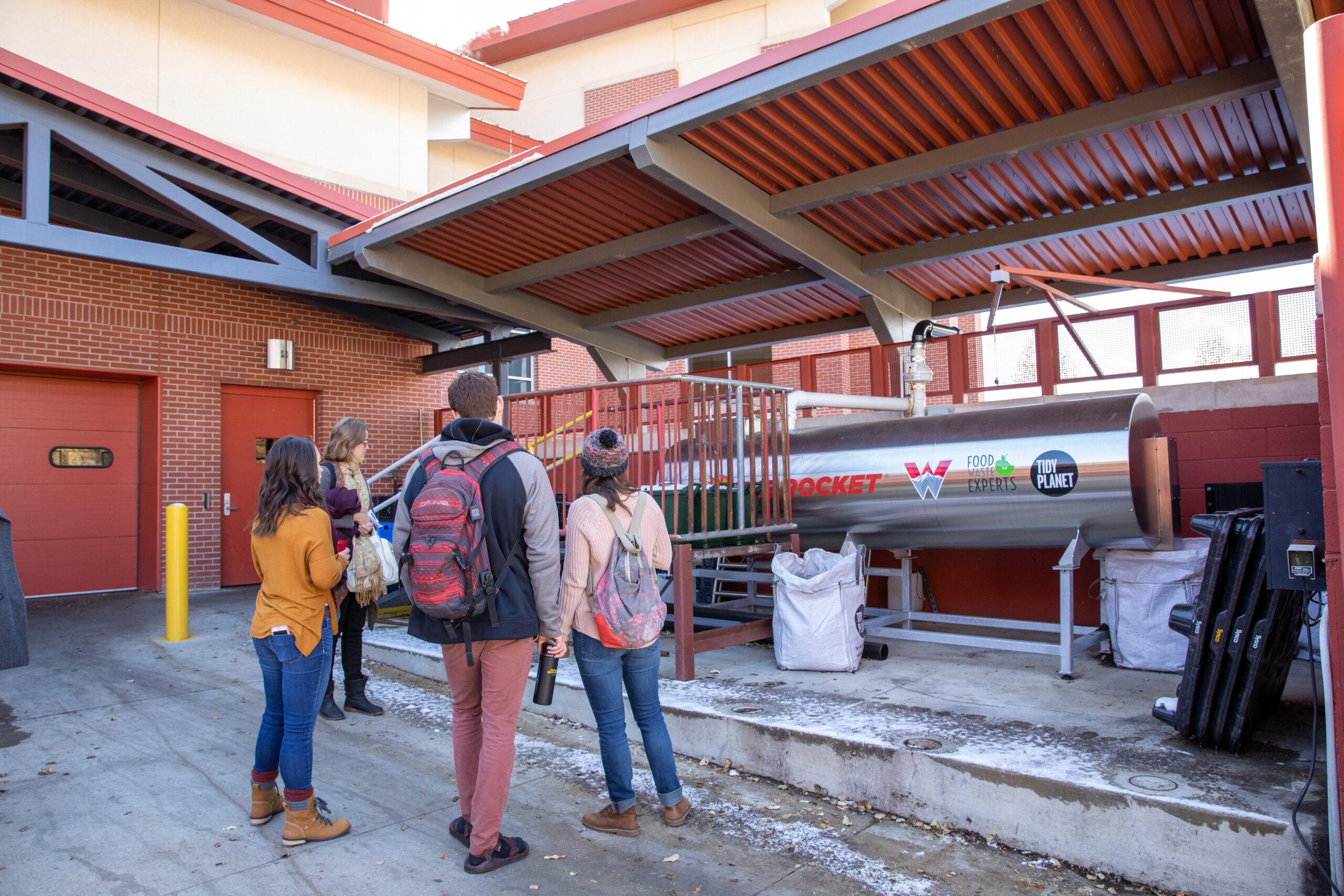 Food and Dining
The Rare Air Café and Mad Jacks are Western's two dining options in the University Center. Both are run by Sodexo, which is under a contract to divert waste and recycle wherever possible.
The Rocket Composter diverts up to 95% of food waste from the University Center- making it the flagship sustainable building on campus. The funding was provided by the Colorado Department of Public Health & Environment (CDPHE). In addition to the Rocket, Western sends some food waste to a local pig farm, and sends waste oil to the county biodiesel fuel burner.
As the COVID-19 pandemic caused many changes to protocols across campus, Sodexo had to reinvent how they would serve students with meal plans. Now, Sodexo provides every student with a meal plan a reusable container for taking food to-go. This is through a partnership with Pepsi and supports the Sustainability Action Committee's (SAC) 'Eat, Wash, Reuse' program.
For more information, visit read this news article.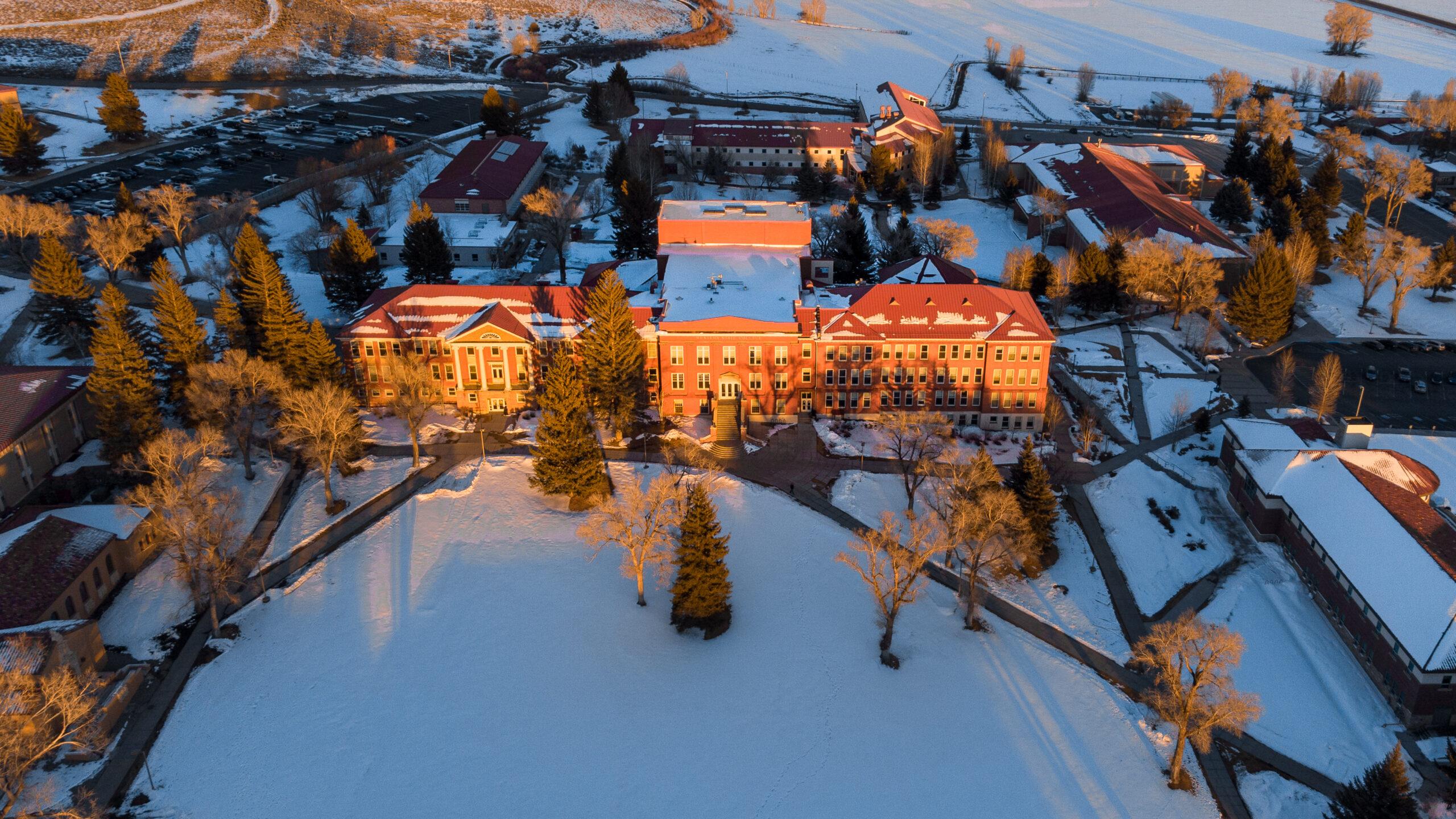 Green Cleaning
Western's Custodial department provides a clean, safe, and healthy campus environment. The Green Cleaning Program is the standard for Western and the department is committed to purchasing Green Seal products for the majority of our campus sanitation needs. Western has found many green alternatives to the standard cleaning chemicals and will continue to look for new ways to reduce the reliance on harmful chemicals and replace them with high performing alternatives. Examples of green products that the Custodial department uses include: microfiber cloths, 100% recycled paper products, recycled plastic trash liners and green certified hand soaps.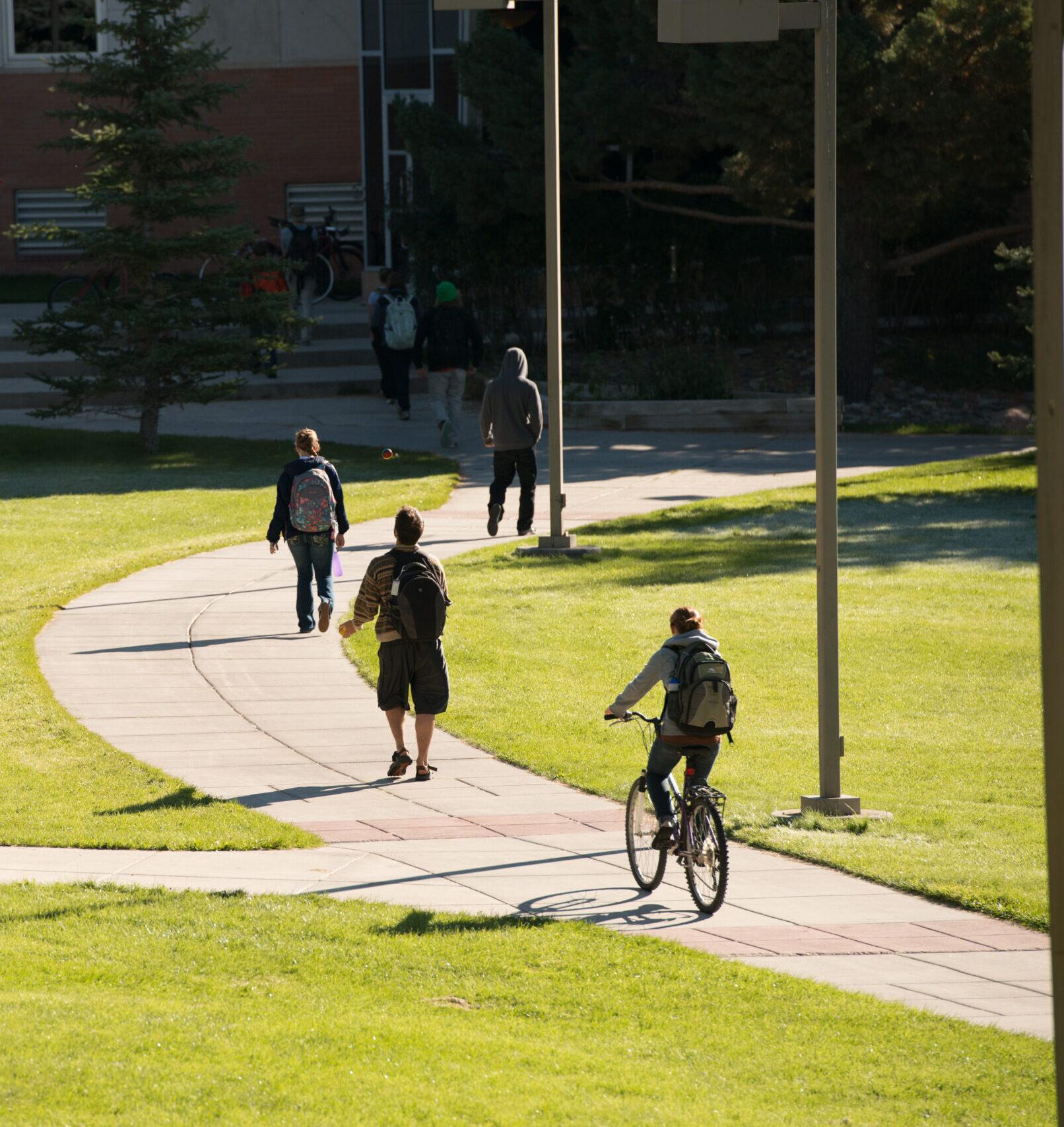 Purchasing Policy
Western's Environmentally Preferable Purchasing Policy (EPP) fortifies the University's commitment to sustainability. The goal of this policy is to reduce the unfavorable environmental and social impacts of our purchasing decisions by buying goods and services from manufacturers and vendors who share our commitment to the environment. Environmentally preferable purchasing is the method whereby environmental and social considerations are given equal weight to the price, availability, and performance criteria that colleges and universities use to make purchasing decisions. Western strives to purchase products that embody the following principles:
High content from post-consumer recycled materials
Low embodied energy (consumed to extract, manufacture, distribute and dispose)
Recyclable, compostable and biodegradable
Non-toxic
Energy efficient
Durable and/or repairable
Produced in a manner that demonstrates environmental, social, and ethical values
Minimal packaging (packaging should also abide by the above principles)
Afterlife reuse/regeneration potential through the company (carpeting, furniture, etc.)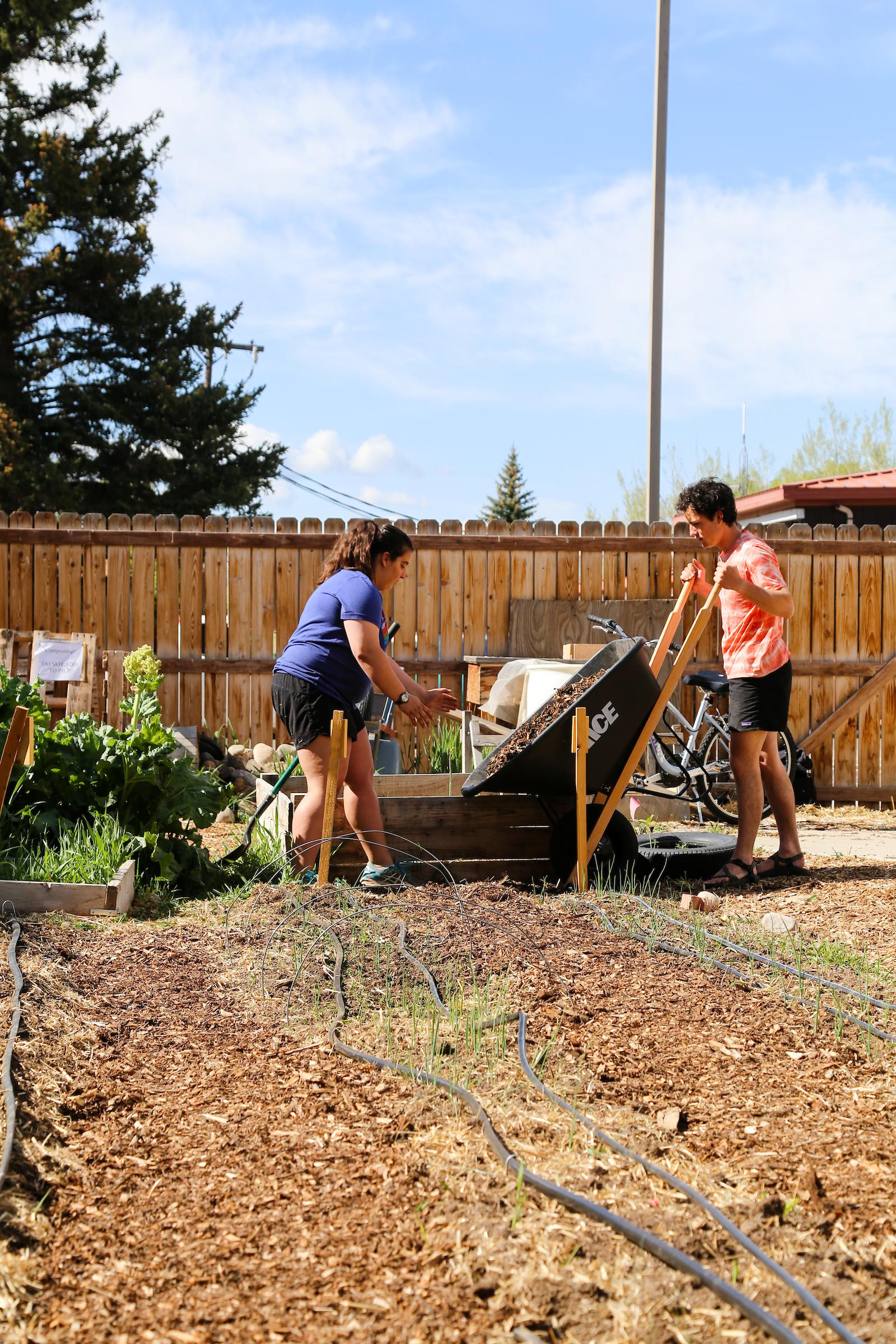 Monitoring our Progress
Western's Facilities department uses two reporting platforms, Second Nature and Sustainability Tracking Assessment & Rating System (STARS), to measure its sustainability progress. These resources showcase how new projects can alter energy use on campus to be more efficient and the benefits to implementing more sustainable projects.
Second Nature's mission is to accelerate movement toward a sustainable future by serving and supporting senior college and university leaders in making healthy, just, and sustainable living the foundation of all learning and practice in higher education. Since Western's Climate Action Plan was developed in 2009, Western is a signatory of Second Nature's Climate Leadership Network. Western uses the Second Nature Reporting Platform to track its progress towards a 50% reduction in greenhouse gas emissions by 2050. Yearly progress and greenhouse gas reports are uploaded to the Platform and publicly available.
Western also reports its sustainability efforts with the Association for the Advancement of Sustainability in Higher Education (AASHE) with its Sustainability Tracking, Assessment, Rating System (STARS). STARS is a transparent, self-reporting framework for colleges and universities to measure their sustainability performance. Performance indicators and credit criteria are organized into four categories that span the breadth of higher education sustainability: Academics, Engagement, Operations, and Planning Administration. Western completed its first STARS reports in 2016, earning a bronze rating, and again in 2019, moving up to a silver rating. You can view Western's STARS reports here.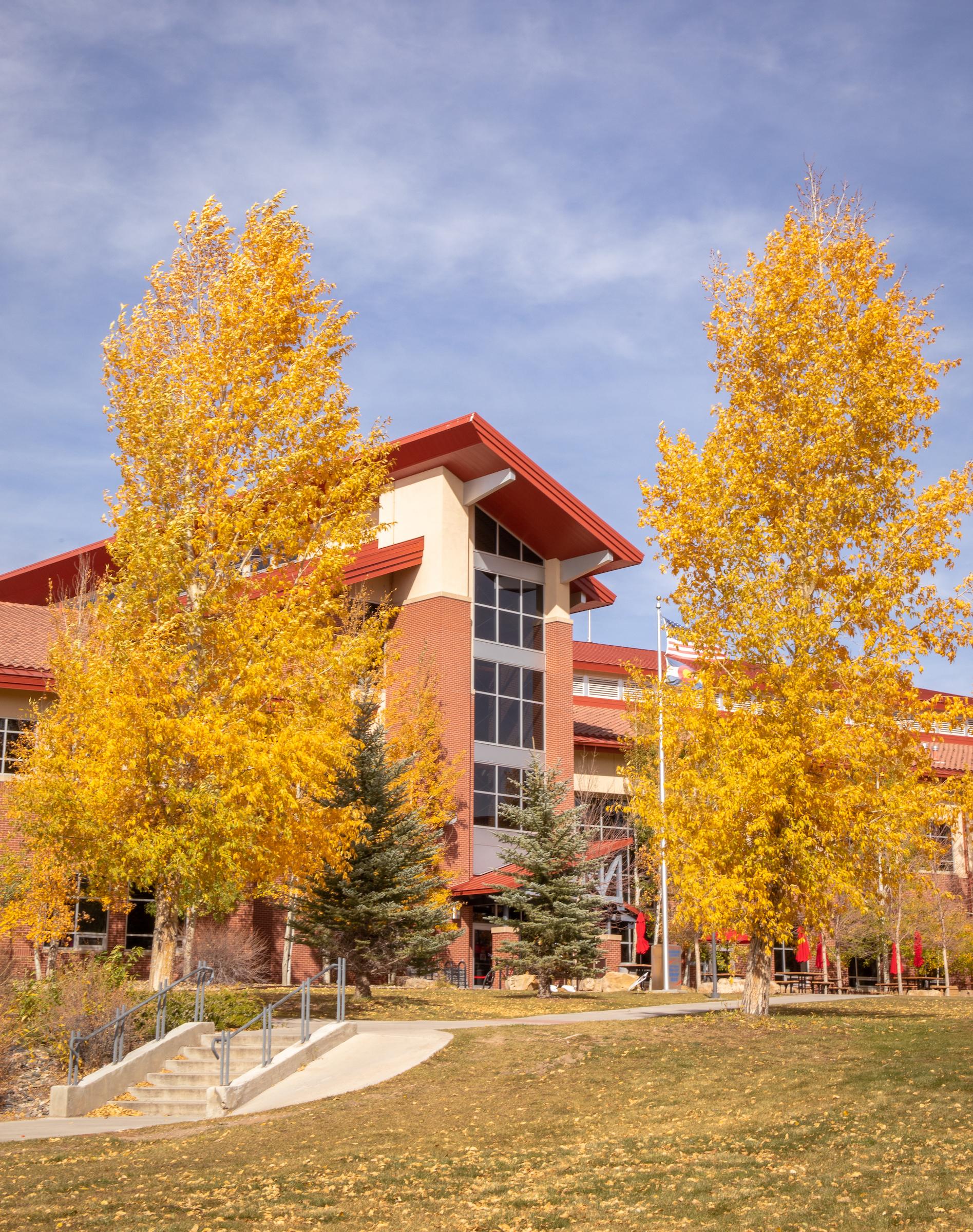 LEED Buildings
According to the U.S Green Building Council, a LEED-certified building features ample natural light, a sophisticated system to ensure proper indoor temperature and even carbon dioxide sensors that trigger fresh air flow when there are students in a classroom. Western is proud to meet LEED requirements for our recent construction and renovation projects. Read more about some of the sustainability features of Western Colorado University's green buildings.
Western is committed to applying environmental stewardship principles to emphasize energy conservation and efficiency in building renovations and new facilities. Western's Facilities department is dedicated to making its building operations and maintenance more energy efficient and to reduce greenhouse gas emissions. Recently, the university began replacing all incandescent light fixtures with LED bulbs. Western participates in the US Green Building Council's Leadership in Energy and Environmental Design (LEED) rating system. The university is proud to meet LEED requirements for all recent construction and renovation projects and is committed to have all new buildings and renovations earn LEED-Gold certification or its equivalent.
Click the dropdowns below to learn more about each LEED-certified building at Western.