Office of Sponsored Programs and Grants
Our mission is to provide high quality development, support for and administration of externally funded research, projects and programs throughout the lifecycle of each grant, applying regulatory and organizational expertise.
The Office of Sponsored Program's research administrators are pre-award, post-award and compliance professionals who bring unique and related experiences from every aspect of research administration. We fine tune our business processes and evolve to meet the changing needs of the institution and the people we work with on a daily basis. The team is organized to efficiently support the needs of researchers, project directors, collaborators and sponsors. Grants, contracts and cooperative agreements between Western Colorado University and federal or state agencies, and private foundations, are managed by the Director of Sponsored Programs in Academic Affairs and the Grants Manager in Finance and Administration.
​
Coordinating and supporting meaningful projects.
The Director of Sponsored Programs is the primary liaison for faculty, staff and students, funding agencies and administration to ensure all interests are represented and protected with each request submitted. The Director of Sponsored Programs is the University's Authorized Organizational Representative (AOR) to submit proposals, negotiate and accept sponsored research awards and service agreements on behalf of the University Board of Trustees.
The Grants Manager in Finance and Administration supports pre-award budget development and manages post-award budgets in coordination with the primary award contact.
Resources, technical assistance, proposal submission and post-award management are all supported by the research administration team. The Office of Sponsored Programs and Grants protects the university's interests by:
Developing, reviewing and managing the approval process for the submission of project proposals
Assist with reviewing and negotiating grant contracts and agreements
Monitoring the post-award implementation and administration of awards
Providing guidance for compliance with internal and sponsor policies and procedures
Serving as the liaison with sponsors and regulatory agencies
Providing tailored tutorials and training for individuals and small group are available upon request. Contact jwelborn@western.edu to discuss needs and schedule sessions.
Grant Life Cycle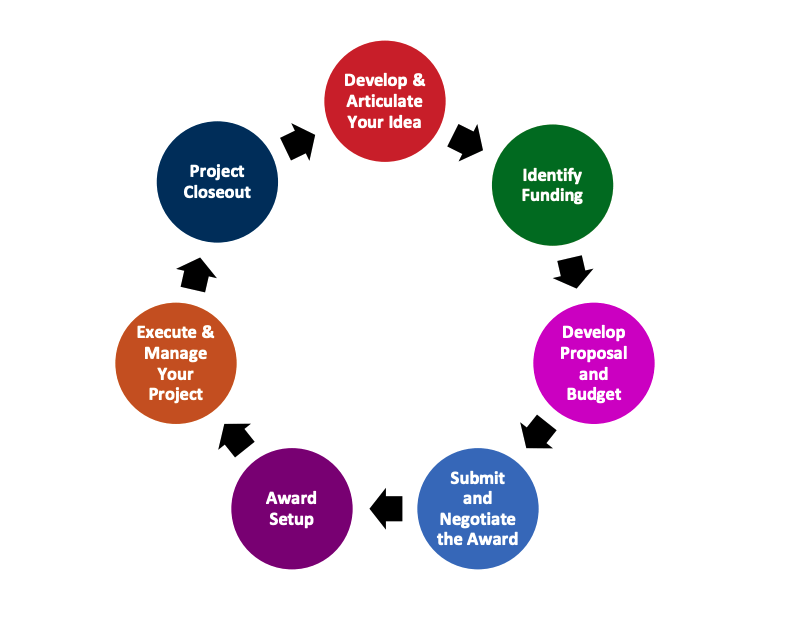 Services
Assist in identification of potential funders, sponsors and partners
Provide access to program announcements, guidelines and application forms
Facilitate project design and proposal development, review and editing of drafts and budgets
Advise in the preparation of proposals including standard forms, compliance, institutional data, budget preparation, indirect costs, and evaluation
Proposal preparation and processing, award negotiation and acceptance, award set-up and project accounting and reporting, and compliance with all applicable university, sponsor, state and federal requirements, standards and regulations.
Develop and implement incentive programs to encourage supported grant activity in all departments across campus in coordination with Academic Affairs
Resources, Memberships and Agreements
Grants.gov https://www.grants.gov/

A common website for federal agencies to post discretionary funding opportunities and for grantees to find and apply to them.

Grants Resource Center (GRC) https://www.aascu.org/grc/

Western is a member of the Grants Resource Center, a unit of the Association of State Colleges and Universities (AASCU) and provides a comprehensive suite of tools, services, and expertise to improve and increase the securing of grants from federal and private sponsors. Contact the Office of Sponsored Programs to access this resource. jwelborn@western.edu
Collaborative Institutional Training Initiative (CITI) Membership https://www.citiprogram.org/index.cfm?pageID=14

Western employs the CITI IRB training program to ensure responsible conduct of research for undergraduate and graduate students and faculty and staff to develop, foster and maintain a culture of integrity in science in alignment with federal state and private agency requirements.

Institutional Review Board https://western.edu/about/administration/academic-affairs/human-research-committee/
Western Research Council https://western.edu/news-research/

The mission of the WRC is to highlight the academic prowess of undergraduate and graduate students as well as faculty at Western. WRC exists to expand opportunities for students in all academic disciplines to engage in original research or creative work.

Master Agreements with US Forest Service, Bureau of Land Management, National Park Service

Contact the office of Sponsored Programs for additional information.

Rocky Mountain Cooperative Ecosystems Unit CESU Membership https://www.cfc.umt.edu/cesu/
Grant writing Incentives

The OSP, in collaboration with Academic Affairs, offers a variety of incentives to encourage and support grant writing activity from faculty and staff across the University. Incentives are available to support activity during the pre-award stages that include agency targeted training, financial research support incentives, course release, and other concentrated opportunities. Contact the OSP for additional information jwelborn@western.edu
Office of Sponsored Programs and Grants
Director of Sponsored Programs and Grants
Janice Welborn
Director of Sponsored Programs
Grants Manager, Finance Office
Sarita Neyman
Grants Manager, Interim Administrative Assistant
Campus Location
Western Colorado University
Taylor Hall 321C
1 Western Way
Gunnison, CO 81231