Western professor, students show us we can do more with less
For the last decade, the fitness world has been obsessed with High-Intensity Interval Training (HIIT). And for good reason. In our time-crunched world, HIIT training promises people all the benefits of a workout in less time than a traditional exercise routine would take. But the reality is a bit more complicated.
"What happened is the original high-intensity interval training ended up being just as time-demanding as traditional recommendations." Western Colorado University professor of Exercise & Sport Science Lance Dalleck said. "You need to do several repetitions of training in 4-minute intervals, with 4 minutes or less to warm up and cool down, and you get a 40-minute workout. So, it's not really time efficient."
But it was a step in the right direction, he said, showing trainers what could be possible. Now, new research out of Dalleck's High Altitude Exercise Physiology (HAEP) Lab is showing that far less time is actually needed to see benefits from high-intensity exercise. During a 6-week study last year, participants showed improved cardiorespiratory fitness and cardiometabolic health is possible with regular exercise routines lasting less than 10 minutes each.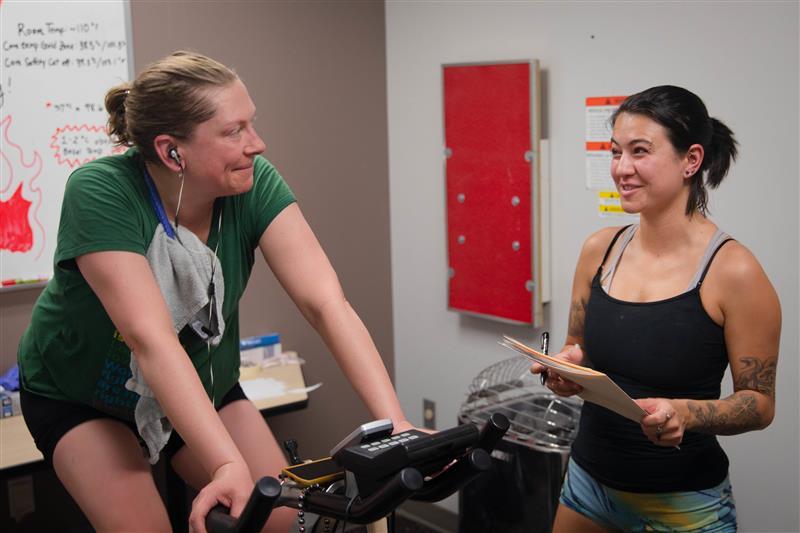 Reduced Exertion High-Intensity Training (REHIT)
Because Western has the only high-altitude exercise physiology lab in the United States, every year, the American Council on Exercise (ACE) budgets thousands of dollars to support the research Dalleck and his students are doing there.
Two years ago, ACE awarded Western a $20,000 grant to test the nascent idea that a modified version of HIIT, known as Reduced Exertion High-Intensity Training (REHIT), could produce similar, or even greater, benefits to people in a fraction of the time it would take to do a HIIT routine.
The research involved the use of specialized CAROL (CARdiovascular Optimization Logic) bikes that employ artificial intelligence to customize the exercise routine for each person by determining the right amount of resistance for the appropriate time intervals to achieve the greatest benefit.
What's the shortest effective workout?
A paper published by the International Journal of Environmental Research and Public Health and a report that Western students will present at a regional conference next spring describes research from Western's HAEP Lab showing people could perform two rounds of 20-second bouts at maximum exertion with a couple of minutes of moderate exercise in between. In just 8 minutes and 40 seconds, they achieved better results than a control group of people who stayed with traditional HIIT training routines.
How does REHIT actually work?
"The research supports that these pathways turn on making more mitochondria – and that's the powerhouse of our cells where we create our energy – that are maximally activated with as little as 20 seconds of all-out activity. We call it a dose-response relationship," Dalleck said. "So this is happening at the cellular level. But at the whole-body level, what it does is it makes us more fit. And fitness has been shown to be the best predictor of longevity and risk of heart disease. A better predictor than if you smoke or not."
The first phase of the research used 75 people from the Gunnison community and Western students between 19 and 56 years old who weren't exercising regularly before the study. The next phase of the research will seek out new subjects to determine if REHIT is safe to be used by everyone and in a workplace environment instead of just at home or in a gym.
CAROL Bikes and the push to incorporate exercise into the workday
Dalleck hopes the research will eventually lead to having several CAROL bikes on Western's campus, which would allow as many as six people an hour to get a ten-minute ride in. Over the course of a workday, nearly 50 people could take advantage of a single bike. Such a minimal time commitment could significantly improve health and encourage faculty and staff to include structured exercise in their daily routine and interrupt the sedentism that comes with office work.
"What we found is every hour to two hours, you need to interrupt the sedentary behavior. We can have this 'active couch potato' phenomenon where people meet the exercise guidelines, but they have a desk job where they sit for 8 hours a day," Dalleck said. "And so if we can interrupt just the sedentary behavior, that in and of itself has a lot of cardiometabolic health benefits."