Theater and performance are an infusion of artistic and technical crafts. Behind all great theater performances are talented actors, the ingenuity of costume and set designers, detailed technicians and visionary directors.
Explore your role in theater and performance.
In the Theatre & Performance Studies program, you'll explore the human desire to perform in both aesthetic and everyday settings. By understanding the links between the arts and literature, anthropology, communication, sociology, and philosophy, you'll learn how to harness the power of performance to promote social change. Through a multi-disciplinary curriculum and hands-on experiences, you'll gain a comprehensive understanding of the history of theater, scriptwriting and analysis, technical production, acting, directing and more.
During your time at Western Colorado University, you'll also have the opportunity to work as an actor, producer, artistic staff and technical crew in all aspects of the art form through the Western Theatre Company's four annual productions. Whether you want to pursue creative careers in the performing arts or hone your public presence for broadcast journalism, the program will impart valuable skills for a variety of applications.
Taking the stage
Students work as actors, producers, artistic staff and technical crews in all aspects of the art form through the Western Theatre Company's four annual productions.
At Western, course rotations are crafted to encompass a variety of subject fields for a comprehensive education and versatile degree. For required courses and degree plans, visit the official University Catalog. Below is a general overview of courses at Western Colorado University related to this area of study.
| Code | Title | Credits | Description |
| --- | --- | --- | --- |
| COM 121 | Introduction to Theatre (GT-AH1) | 3 | View |
| COM 216 | Dramatic Literature and Script Analysis | 3 | View |
| COM 231 | Technical Production I | 4 | View |
| COM 235 | Fundamentals of Acting | 3 | View |
| COM 306 | Scriptwriting | 3 | View |
| COM 310 | Introduction to Performance Studies | 3 | View |
| COM 317 | Studies in Theatre and Performance | 3 | View |
| COM 323 | Media/ Arts Management | 3 | View |
| COM 324 | Advanced Acting | 3 | View |
| COM 330 | Technical Production II | 3 | View |
| COM 423 | Directing | 3 | View |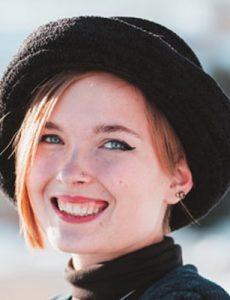 Amelia Campbell
Student
"I always wanted to live in the mountains since I was little, and when I found out about Western's vocal department and did a little research, it felt like the right place to call home."
Career preparation starts your first year at Western and is the primary focus of every degree.
Visit Career Services in Library 120 or online to discover your interests, define your goals, and land the career of your dreams.
The data below is automatically collected by Burning Glass Technologies, a firm that sources job market data and provides analytics. The statistics illustrate general trends in U.S. careers, but do not precisely represent every job and salary.
Take your education beyond the classroom.
Get the hands-on learning experience you need to apply your knowledge and launch your career.
KWSB Radio: On air since 1968, KWSB is student driven, student staffed and open to anyone who wants to have their own radio show.
Mountaineer Media: A student-run media production group specializing in short films, screenings and storytelling abilities.
Taylor Media Center: Houses film production studios, audio production studios and more.
Top o' the World Newspaper: Monthly paper composed by students offering opportunities in newswriting, photography, editing, designing and advertising sales.
Western Theatre Company: A co-curricular program and student-run producing board that oversee and provide quality live performance to the campus and Gunnison community.
It's showtime
Western Theatre Company is a co-curricular program and student-run producing board that oversees and provides quality live performances to the campus and Gunnison community.
Department Chairperson
Jack Lucido, MFA
Professor of Communication Arts, Director of Film Studies, Chair of CALL Department
Administrative Assistant
Cindy Petito
Administrative Assistant II
Campus Location
Western Colorado University
Taylor Hall 216
1 Western Way
Gunnison, CO 81231