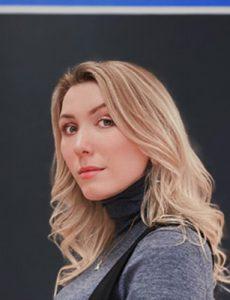 Profile
---
While studying in Western's M. A. in Art: Gallery Management & Exhibits Specialization (MGES, now MGMM) program, Sloane found employment at Art Omi, a contemporary art center, international artists residency and 120-acre Sculpture and Architecture Park in New York's Hudson Valley. Initially, she was hired as the visitors services assistant. Her participation in the MGES program continued to open doors for her in her career.
"I find that the program at Western allowed me to not only take my first steps into the arts and culture sector, but to fully embark into my curatorial career with a solid foundation in both the practical and theoretical," Sloane said.
Through the MGES (now MGMM) program, Sloane completed her required curatorial internship under the curator and project manager of Art Omi, which led to a promotion to curatorial assistant. She manages an ambitious exhibition program there, including multiple gallery shows and large-scale outdoor installations. Her diverse job duties include writing curatorial and didactic text, coordinating tours and special events, tracking project budgets, and increasing overall education and accessibility to the extensive body of work on view at the center.
At work, she often applies the skills and knowledge she gained from her time at Western.
"I use my MGES education on a daily basis, whether I am conducting collections research and preparing title text for the park, or purchasing fabrication materials and assisting with physical installation."