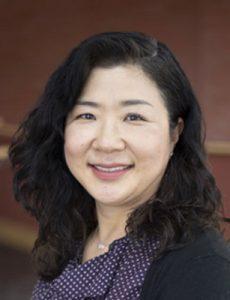 Eun-A Park, Ph.D.
Faculty,
---
Profile
---
"The students who come to my class with pure spirit and curiosity are my favorite thing about teaching in the Gunnison Valley."
Eun-A Park, Ph.D., came to the United States from South Korea in the early 2000s and has been teaching at Western Colorado University since 2017.
She studies emerging media, their socio-cultural implications and policy issues, along with the economic and strategic aspects of digital content distribution (specifically Over The Top, OTT, business models), new media audience behaviors, social media and their sociocultural impacts.
She has written papers dealing with subjects such as user studies of smartphones and tablet PCs, digital content distribution (e.g., Netflix, Hulu, and Amazon Prime Video) business models and business strategies.
The emergence of new media and their impact on society excite her, she said. Coming from across the world, Park had to get used to American student's culture and lifestyle.
"The students who come to my class with pure spirit and curiosity are my favorite thing about teaching in the Gunnison Valley," Park said. "They come in all shapes and forms."
"I see their potential and I know that someday it will explode like fireworks on Independence Day and illuminate their whole world," she said. "It is my task to find that potential and help them develop it to their utmost ability. Interacting and working with these students are the reasons for me to stay in the Gunnison Valley."
Park cares for each one of her students and offers to help them in any way she can. She has mentored more than six students individually to help them complete their bachelor's degree at Western.
When she is not helping students, some of her research interests include investigating the impact of convergent media on societal, industrial and political decision making. The relevance of this research program arises from the consensus that telecommunications and mass media have been merging and that this convergence has created a new media environment in which societal relations and governance arrangements must be negotiated anew. The changing dynamics in communication media and technologies has created the need for reconsidering traditional perceptions about mass communication and its impact on society, she said.
"My current and future endeavors focus on investigating, explaining and predicting the impact of new media technologies on existing practice and thereby adding to the fundamental knowledge base applicable to decision making," Park said. "I hope to coordinate a multidisciplinary effort to discover the missing links among mass communications, information and telecommunications policy making."
Story by Caitlin Gleason.