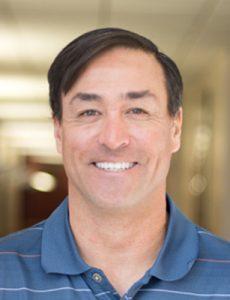 Profile
---
"I really appreciated the small school experience as a student," he says. "And having that as my backdrop of what college should and could be informs my relationships with students."
Chris Lee arrived at Western after spending a little over six years as a self-described ski bum. In 1998 he and his wife decided it was time to work on their college degrees. And how do two ski bums decide what college to attend?
"We narrowed our choices down to two schools based on their proximity to world class ski resorts," said Lee, now an Assistant Professor of Biochemistry at Western.
His method of decision-making paid off. He was "fantastically surprised at the science courses offered here." He applied a comparable strategy when scheduling his courses, opting for a full course load each fall and summer, leaving his spring load light so he could take advantage of the prime skiing months.
Lee always had a curiosity for botany and natural populations. He joked that he's caused many a mountain biking crash "because I stopped unexpectedly to investigate cool wildflowers."
He chose a major in biology and had an interest in the genetic engineering of plants—soon after he found Professor Rick Jagger who became an academic mentor. Along with a classmate, Lee applied and was awarded a research grant. He spent the next two years assisting Jagger. The experience was valuable and the realization for Lee that research was a career pathway was "life-altering."
Lee went on to graduate school in Missouri. Upon completion he intended to seek employment in a corporate environment when a teaching position caught his attention. He applied and took the job.
"Within a month I knew I had fallen in love with teaching," Lee said. "I loved seeing that 'aha' moment when a student understood a concept."
As much as he loved his new position, he and his wife always hoped to return to Colorado.
"Gunnison always felt like home to us," Lee said.
He patiently waited for the position he now holds to open up and then applied as soon as the chance presented itself.
As a professor today, Lee works to motivate his students to keep on top of their studies. He shares their appreciation for the surroundings and outdoor opportunities in the Gunnison Valley.
"When it snows I expect them to study, but I am also not disappointed if they take advantage of the fresh powder," Lee said.
Lee's experience teaching in a large university prior to Western has given him a unique perspective.
"I really appreciated the small school experience as a student," he says. "And having that as my backdrop of what college should and could be informs my relationships with students."
Academic Programs
---