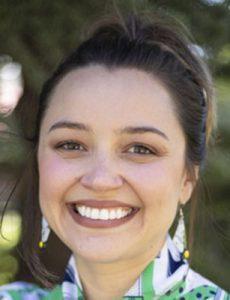 Brenna Womer, MFA
Faculty,
---
Profile
---
"One of Western's newest professors, Womer has created a new Magical Realism course after receiving suggestions from students."
Brenna Womer, MFA, is a new addition to Western's English program from Northern Michigan University.
Womer considered 70 different jobs before choosing Western, which she describes to be the "perfect job."
"I feel heard by the higher-ups in my department who genuinely want input and ideas from faculty about how they can best serve us and our students, which is how I ended up slated to teach ENG 197: Special Topics—Magical Realism in the Spring 2020 semester," she said.
"A few of my creative-writing students expressed interest in a Magical Realism class, and I brought it up at a department meeting, thinking they might consider it for a future semester. Three weeks later, Dr. Alina Luna was at my office door, asking if I'd like to teach the class next semester, and she made it happen."
One of Womer's biggest boxes to check was to attend a college where the students and department teach her as much as she teaches them.
"Students are super excited about things, I love that," she said. "I love how clubs are so student-led, and there's so much going on."
Though Womer just moved to campus this semester, the community and culture of Western have already revealed themselves to her.
"I love hiking with my partner and our pit bull, Basil, on the hills by campus. We also really love movies, so we love getting to Crested Butte's theater when we can. I cook and bake quite a lot, which have been hobbies of mine since I was a kid," she said.
She still has much of Gunnison to explore.
"I'd never been to Colorado before, but I have friends who have visited or lived in Colorado over the years, and each of them loved their experience. I grew up on military bases and in a very indoorsy household, so I never had the chance to camp or hike growing up," Womer said. "As an adult, these are things I want to incorporate into my lifestyle, and Gunnison seemed like an excellent place to do that. Plus, the mountains are stunning; I love the landscape."
"Western is in a really cool moment of innovation in many regards. It's really made an impression on me how responsive the senior faculty and administrators are to feedback; it makes me feel welcome and valued," Wormer said.
Written by Western sophomore Jamie Rivera.