Storytelling has been an important part of the education and culture of the Navajo—or Diné­­— people. A Western Colorado University film professor has received at $15,000 National Endowment for the Arts (NEA) grant to do just that. The grant is through a partnership with the Colorado Creates Creative Corps funded by the American Rescue Plan.
Archiving Traditional Music
Bernadette Salem, Ph.D., received the funds to team up with co-director and Diné filmmaker, James Foguth of Nizhoni Films. The duo intends to create a documentary series archiving Navajo traditional music. They will be recording a series of traditional Navajo ceremonies based around the four seasons, and this archive will be distributed freely as an educational resource for public schools in the Navajo Nation.
"As a Palestinian-American filmmaker, struggles over sacred sites and the preservation of culture and tradition are ingrained into my documentary practice, which examines how human lives been shaped by these powerful influences coming together," said Salem. "I am particularly interested in new opportunities for the intersection between film and underrepresented voices. I believe that sharing such perspectives can foster peace and unity, particularly for the young generation, in these tumultuous times. Our hope is to create work that will be of direct and immediate benefit to the Diné community and beyond."
Recording Cultural Heritage Artifacts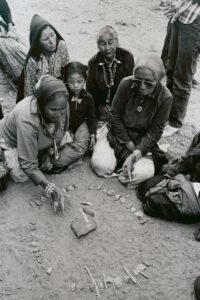 The ARP grant was created in response to the disproportionate harm that COVID-19 has brought upon native communities and their elders. The project will seek to urgently record these cultural heritage artifacts before their custodians are lost. The team will begin filming on location in the Four Corners region in the coming weeks.
"As a child, the Diné teachings and social gatherings have helped me build my moral framework and helped me feel part of a caring community. My best memories as a child have been attending social gatherings like the Keeshje' (Shoe Game)," said Foguth. "These cultural social practices are important elements in Diné education, because the music, stories, and community participation, teaches fundamental aspects of spiritual growth and the importance of participating in community life."
Teaching and Preserving
Foguth said that access to the knowledge and practices of Diné life has been shrinking since invasion and colonization. Diné children now have very little access to the knowledge holders in the community.
As a Diné filmmaker, he said, it is his responsibility to use his skills to help introduce the vibrant Diné culture to Diné children, youth, and the wider community. The four-part docuseries will also serve as an archive for these endangered practices. They will focus on filming games and events accompanied by Navajo traditional musical performances; these events are aspects of Diné community values, including bringing people together and teaching the importance of kinship, unity, and collective spiritual growth.
Telling Stories
Foguth has been a filmmaker since 2014 and is the owner of Nizhoni Films. Salem has been working with Melanie Armstrong, Ph.D., Public Lands Coordinator for the Master's in Environmental Management (MEM), on a National Geographic-funded project with the Zuni Conservation Corps. The series of shorts shows the best practices in collaborative management of the Bears Ears National Monument in conjunction with the conservation of the site and its sacred ancestry.
The duo hopes the docuseries on the Navajo nation will be ready to release this fall.
Learn more about Western's Film Studies program.
Author Credit: Chris Rourke
Photo Credit: Roger Manley