Western Colorado University's M.A. Program in Gallery and Museum Management (MGMM)­­­ was pleased to present the exhibition opening of Evan Lindquist Engraves Engravers at Western's Quigley Art Gallery, Gunnison, CO early this semester. Western students from the MGMM program curated and installed the exhibit in July 2022, with special assistance from Tiffany Fairall, Chief Curator, Mesa Contemporary Arts Museum, and Dr. Al Caniff and S. Chase Hutchinson from the University's Art Department. This important collection of thirty prints was donated to Western's Art Department by Lindquist for the continued study and appreciation of printmaking.
A Unique Approach to Storytelling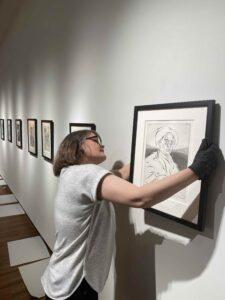 Evan Lindquist Engraves Engravers features thirty copperplate engravings by Arkansas Artist Laureate, Evan Lindquist, Emeritus Professor of Art at Arkansas State University, Jonesboro, Arkansas. At the heart of Engraves Engraving is Evan Lindquist's unique approach to storytelling – the included prints are engravings of engravers of historical importance to the art of printmaking, from the 15th-century German printmaker Albrecht Durer (d. 1528) to one of Lindquist's mentor, Mauricio Lasansky (d. 2001).
Visual Cues and Historical References
Like mementos of history, each of Lindquist's engravings includes visual cues and subtle historical references related to the techniques of printmakers, delivered in his indelible wit and masterful skill with calligraphic lines. Using a traditional engraver's burin, Lindquist hand-engraves his ideas onto copper plates and then prints them in the traditional process of intaglio printing.
Lindquist's Works
Lindquist's works are currently held in museums across the country, including the Art Institute of Chicago, IL, the Whitney Museum of American Art, NY, and the Boston Museum of Fine Arts, MA. Thanks to MGMM alumna, Norwood Creech, this significant collection of Lindquist's works featured in the exhibit will be permanently donated to the University.
About MGMM at Western Colorado University
Western Colorado University's M.A. in Gallery and Museum Management (MGMM) program is a fully accredited, professional terminal master's degree. We offer a flexible, "hybrid" low-residency program that consists of online courses you can complete from anywhere in the world, combined with a two-week summer practicum on campus and an arranged internship at a gallery or museum of your choice.
Contact Program Director, Dr. Erica Kinias, for more information at ekinias@western.edu, 970-943-2037.
Author Credit: Erica Kinias, Ph.D., MGMM Program Director
Photo Credit: Erica Kinias, Ph.D., MGMM Program Director