For a second consecutive academic year, GVH is providing highly qualified, licensed physical therapists to serve Western's student-athletes—be it NCAA Division II, Mountain Sports or Club Sports. Those physical therapists are also serving Western's general student population, faculty and staff. Coupled with upgrades in staff and facilities at the GVH/Western student clinic on campus in Tomichi Hall, this has improved medical access and care throughout Western.
Within just the last two years, medical treatment and support for Western intercollegiate athletics from GVH professionals have quadrupled from two athletic trainers and a weekly doctor's visit in 2016-17 to three athletic trainers, two strength and conditioning coaches, a strength and conditioning graduate assistant, a physical therapist, and a part-time graduate assistant in physical therapy.
"The cross country and track & field teams are grateful to have the extra medical assistance for our student-athletes due to the GVH partnership with Mountaineer Athletics," said Western Head Cross Country/Distance Track Coach Jennifer Michel, whose women's and men's cross country teams finished fourth and third, respectively, at the D-II national championships Dec. 1 in Pittsburgh. "With over 100 athletes on the track roster, athletic training has been limited in the main training room, so having the extra athletic trainer and physical therapist on campus has been greatly appreciated."
As if that weren't enough, GVH physical therapists are serving again this year as a resource for screening and assistance with Western's Wellness Elevated program.
Operating out of Western's High Altitude Performance Lab (HAP Lab), Wellness Elevated is staffed by both undergraduate and graduate students who serve the Gunnison community by providing evidence-based, supervised and affordable exercise programs for people living with clinical conditions such as heart disease, stroke, diabetes, cancer and obesity. In turn, the program serves as an excellent hands-on learning experience for the students, who help real-life clients with real-life issues achieve an improved quality of life through exercise prescriptions, diet recommendations, social connections and heavy doses of enthusiasm.
"Students are often hesitant to partner with other medical professionals," said Wellness Elevated Manager Angela Dalleck, who is also a Lecturer in Western's Exercise & Sport Science Department. "Having GVH physical therapists on site has made this transition easier for them as well as adding clear benefit for our clients."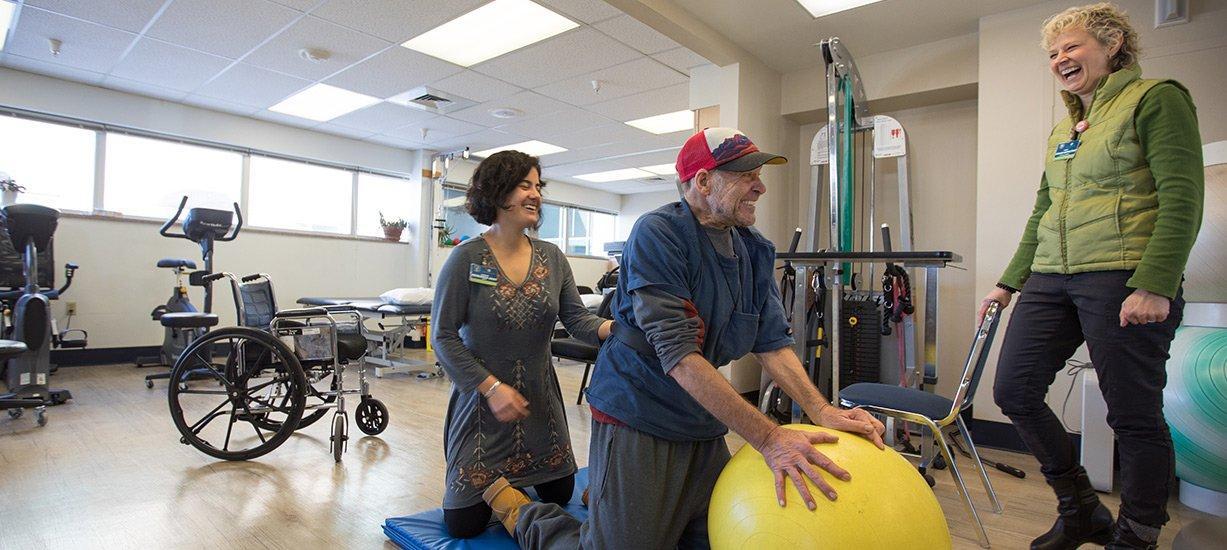 Returning from last year to serve Western's NCAA student-athletes specifically is Dr. Gloria Beim, who founded Alpine Orthopaedics in 1999, as Head Team Physician. Dr. Blake Clifton of GVH/gO Orthopedics, who once served as Team Physician for the University of New Mexico, has returned for a second season, too, as Team Physician.
The collective of three local orthopedic-care providers working in concert—GVH, Alpine and gO—is providing Western's student-athletes with the widest and deepest network of injury care to date.
"I have a lot of experience providing sports injury care—at both the collegiate level, as well as for elite athletes," said Beim, owner of Alpine Orthopaedics who has served as Head Team Physician as well as Chief Medical Officer for Team USA at multiple Olympic and Paralympic events globally. "This is how it gets done. No one physician or group does it all. You work together and leverage resources in order to deliver the best care possible."
Beim and Clifton are providing pro bono training room coverage when Western is in session, as requested by Western Director of Athletics Miles Van Hee. Beim and Clifton are also sharing coverage of home games with an emphasis on NCAA sports with a higher prevalence of game-day injuries, including football, men's and women's basketball, soccer and wrestling.
"We are so fortunate to have such amazing medical providers to partner with Mountaineer Athletics," said Van Hee, who has served as Director of Athletics at Western for nearly two years after two decades as the university's Wrestling Coach. "Dr. Beim has been an outstanding loyal partner with our athletic department for over 20 years. Now, we have combined forces with GVH and gO Orthopedics to continue to provide some of the best medical services that our student-athletes can receive nationwide. With the increasing demand for physicians and orthopedic surgeon fellowship trained personnel, all three providers are an integral part of our team in working together to advance a new model of institutional collaboration to benefit our student-athletes.
"Gunnison Valley Hospital and Western have recently become excellent partners in making a significant impact on Western and elevating us to higher levels than ever before. We are proud to have the opportunity to partner our relationships with GVH, Alpine and gO to help leverage our strengths and continue to build a platform that elevates our medical services and overall student-athlete welfare."
In addition, representatives from Western Athletics, GVH and Western's Exercise & Sports Science Department are gathering and analyzing data in an effort to improve performance while reducing overall athletic injuries. The focus of these efforts is maximizing the utility of available resources to produce real research and strategies to benefit current and future Western athletes.
"The collaboration between GVH and Western demonstrates the power of two not-for-profit institutions working together for the greater good," said GVH Rehabilitation and Athletic Medicine Administrator Todd Ward. "We continue to look for synergies that provide value to the community, the students and the institutions with an increasing focus on research, which we feel has the potential to impact lives beyond the Gunnison Valley."
Due to the increased athletic medicine staffing, Western and GVH have made it a priority also to offer access to care for the Mountain Sports and Club Sports athletes. This has included not only injury care, but also preventative measures such as performance screenings and bike fits.
Western's one-of-a-kind Mountain Sports program has offered organized training, travel and competition in skiing, snowboarding, cycling, mountain biking and trail running since 2012. The program already boasts an impressive track record.
For example, the Mountain Biking Team won its second consecutive national championship in October. This past summer, the Trail Running Team sent two to the Youth Skyrunning World Championships in Italy. And last March, the men's Nordic Ski Team claimed the national title; the women's team finished second overall, buoyed by Western taking first and second place in the individual 1.5K sprint classic competition.
"Mountain Sports is a growing and vibrant part of the Western experience," Ward said. "Caring for these athletes is imperative to the continued success of this program."
Much to the delight of Western's High Altitude Exercise Physiology (HAEP) graduate program, GVH agreed to continue the GVH Research Assistantships program, which started last year. This year, GVH is funding 5.5 research assistantships—up from 4.5 last year—for HAEP graduate students.
Through the GVH Research Assistantships program, HAEP students gain hands-on experience in their chosen field of study by helping to treat GVH patients between the cardiac rehabilitation program, physical therapy clinic and Senior Care Center. For their work, they are paid a monthly stipend to offset the cost of tuition.
Between two assistantships in senior care, two in physical therapy, one in cardiac rehab and one in the athletic training room, this program is providing students and community members with a level of care and support that was not possible without the GVH-Western partnership.
GVH is also funding a research assistantship dedicated to GVH workplace wellness, prevention of chronic diseases and research. Funding for this new position is coming from GVH employees and family members who opt in to the research-based program, which includes baseline and end-of-program testing, exercise prescriptions and scheduled counseling, quarterly educational events, and full access to the Mountaineer Field House for training and consultations.
"Western is so grateful for the partnerships that have been forged over the past two years," said Western Executive Vice President/COO Brad Baca. "It has served as clear proof that when we come together and leverage our assets, the whole community benefits. Our hope is that we can continue to explore new ways to create value to our students and community through this partnership as well as use this model to generate more ideas for partnerships among the other economic and social anchors of the Gunnison Valley."
Story by Bryan Boyle, Marketing Communications.