For the Fall 2022 semester, Art History professor Erica Kinias, and the history department decided to give students a unique opportunity for their final exam. Instead of writing a research paper, students were given the option to create an art project for their final grade. On December 6th, 33 students from three classes, two history classes and one art history class, gathered in the Leslie J. Savage library to participate in the exhibit of their final projects.
"Basically, they had to come up with a research question that could be explored through the process of making something," said Kinias.
Creating a Work of Art
The students participating in the art exhibit chose a topic from the years 33,000 BCE to 1400 and created a work of art that, for example, recreated a model of something related to the time period or an artistic process of the time period. One student recreated the tools and painting materials of Neolithic cave painters to analyze how paint application differs on different rock surfaces.
"I think this was a really good way of showing that history and art are not all about dates and artists and really boring research papers," said Kinias. "It's also about discovering how people operated in the past."
The Grading Process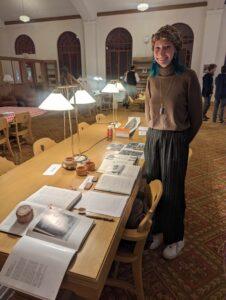 While some students still chose to write a research paper for the classes, over half the students involved opted to conduct a project instead. Though the project was more popular than the paper, Kinias said she wanted to make sure the grading process was just as rigorous.
"[Grading] wasn't like gauging how good their model was or how good their cracked ceramic pot was because that's not interesting to me. I want to know what they hoped to find out of their experiment and what they learned as a result," said Kinias.
The student's projects were graded based on the questions they were seeking in the beginning stages of their research as well as a short reflection paper after the final product.
Collaborating Across Departments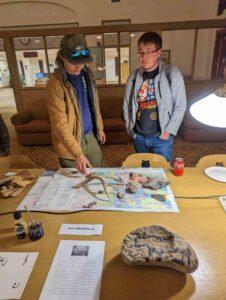 While the uniqueness of this final was interesting in itself, Kinias said the best part of the project was the collaboration between the Art and History departments.
"The students, who might think that art or history isn't their 'thing,' got to spend a lot of time together and it allowed us as instructors to point out that we actually do a lot of things that are similar," said Kinias. "The more students you have together naturally creates this enthusiasm for the subject that you might not get from a normal research final."
Discover more about the Art and History programs at Western.
Author Credit: Kinlee Whitney
Photo Credit: Erica Kinias