Off Campus Access
Western has two options for accessing campus resources, MyFiles, which is a simple tool providing access to Student Drives and Teacher Folders and MyDesktop, which provides access to a "computer lab-like" desktop, including access to most specialty software. Choose a tab below for more information.
This service allows you to access your Student Drive and Teacher Folders from off campus .
When you log in, you should see My Student Drive and Teacher Folders. Just click on a folder to open.

When you click on the Teacher Folders, you will get the entire list. You can speed things up by adding the Teacher Folders you use regularly to your Favorites by clicking the yellow star next to the folder. You can then quickly get to the Teacher Folders you need by clicking on Favorites.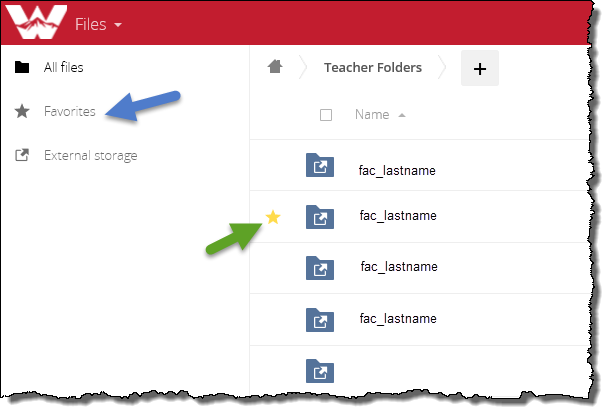 To download files, just click on the file, to upload, click on the + sign. You can also access options by clicking on the three dots … to right of the file: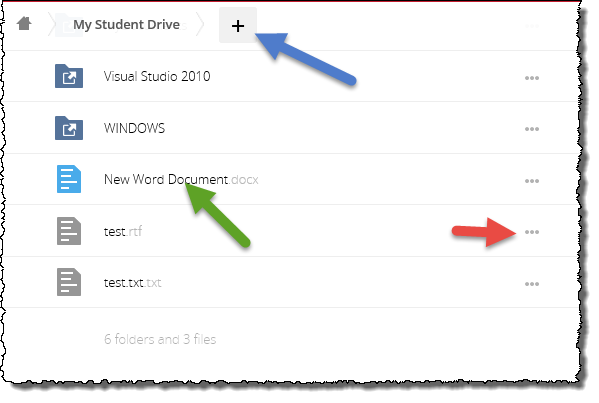 OK. Take me to MyFiles!

On Campus
Remember: on all campus lab computers, you can open your Student Drive and access Teacher folders by using the shortcuts on the desktop.
From your personal computer, while on campus you can get to Teacher and Student Folders directly.
On Windows 7 or higher

Connect to Western Encrypted wireless network
Type in the Start or Search bar: \\labserver\students or \\labserver\teachers
Enter username and password when prompted

Apple:

Select Go
Connect To Server
Type: smb://labserver/students and smb://labserver/teachers
Enter username and password when prompted
How to access your documents from a western computer on campus
On a Windows 7

Click start, and select documents

On an Apple:

Select Go
Connect to Server
smb://userdocs\UserData\[user_name]
Enter username and password if prompted
The MyDesktop service allows you to log into a 'virtual lab computer' from off campus.
You will need to log in twice, once to get through the 'security door' and then again to log in to the virtual desktop. Once logged on to the virtual desktop, it will be (more or less) as if you were sitting at a computer lab on campus.
Use your normal username and password.
Take me to My Desktop!​

We can help! Please stop by the Student Helpdesk at Taylor Hall 125 for assistance.
If you are off campus, please call 970.943.3333 for assistance.